Be prepared for travelling and working in dangerous areas
After a long flight, you arrive at your hotel. You step out of the taxi, turn around and are confronted with a weapon. The robber is shouting at you. What do you do? Fight, flee or freeze?
We believe there is another option: To react consciously, relying on your self-awareness and experience.
During the Basic Course (Hostile Environment Awareness Training), you discover the tools you need to work in medium and high risk areas.
What participants say about this HEAT training
Susan Talbot (World Concern)

'I can't tell you how grateful I am for the training I received just before I left. Because we were calm and non-confrontational, I felt confident we would be alright. And we were. The work you do really does save lives.'

'Walking into this course I had no idea of what I should do in case of such event and now I feel so much more knowledgeable.'

Alassane Cisse (Welthungerhilfe)

"I came away from the training feeling so confident and it really does help when working in very critical security environment."
How can you prepare yourself for dangerous situations?
How do you envision dangerous situations, and how can you prepare yourself for them? In fact, you only know how you will react once an unsafe situation actually occurs.
That's why the Basic Course is based on practical exercises and realistic simulations.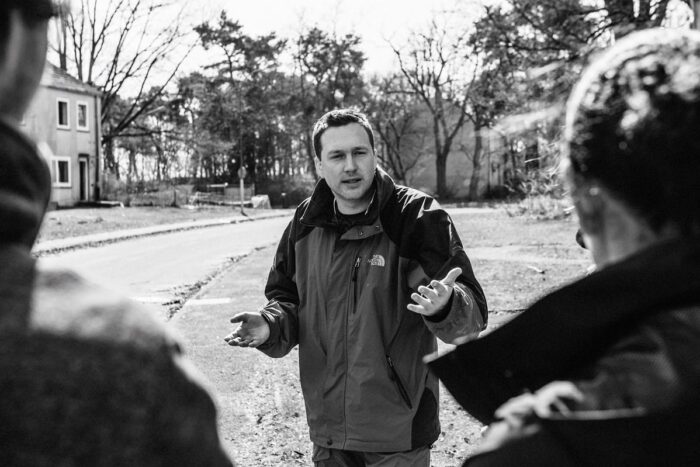 Practice through hyper-realistic simulations
We believe in the power of simulation. Our specialists offer you the opportunity to respond to threatening situations in a safe learning environment.
These simulated exercises are so realistic that you will feel they are really happening. You will learn your own instinctive responses.
Our experienced trainers and professional actors provide you with the tools with which you can react to these situations.
From day one, you'll be immersed in a realistic storyline. During the HEAT training, you are part of a team that is on a mission in a dangerous country.
While travelling through this country, you'll be exposed to dangerous situations. Together, we navigate these situations and through practice learn how to manage them.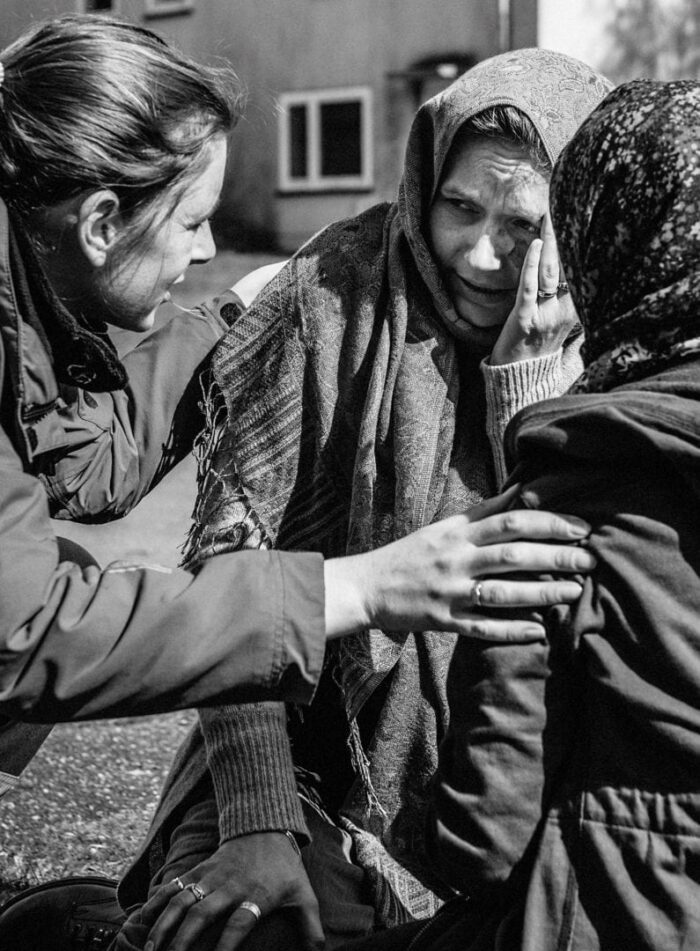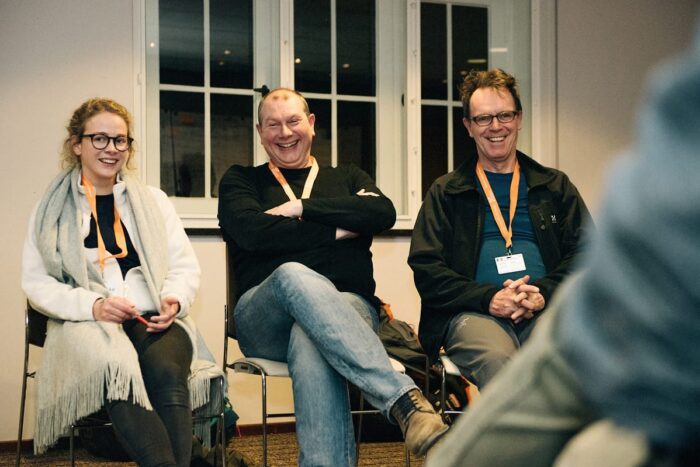 Safe learning environment
Anyone can take part in our training. Your personal safety and well-being are our primary concern.
Before and during the course, you can share prior experiences with the trainers or the host. They can discreetly adapt the course for you to make sure this will be the best and safest learning experience you ever had.
Because there is a host present at the course (apart from the trainers) we make sure you can take a time-out whenever you need one. Out of the situation and the group, the host is able to support you.
The trainers and host support you in your learning process. If you need extra personal guidance, there is time for additional support.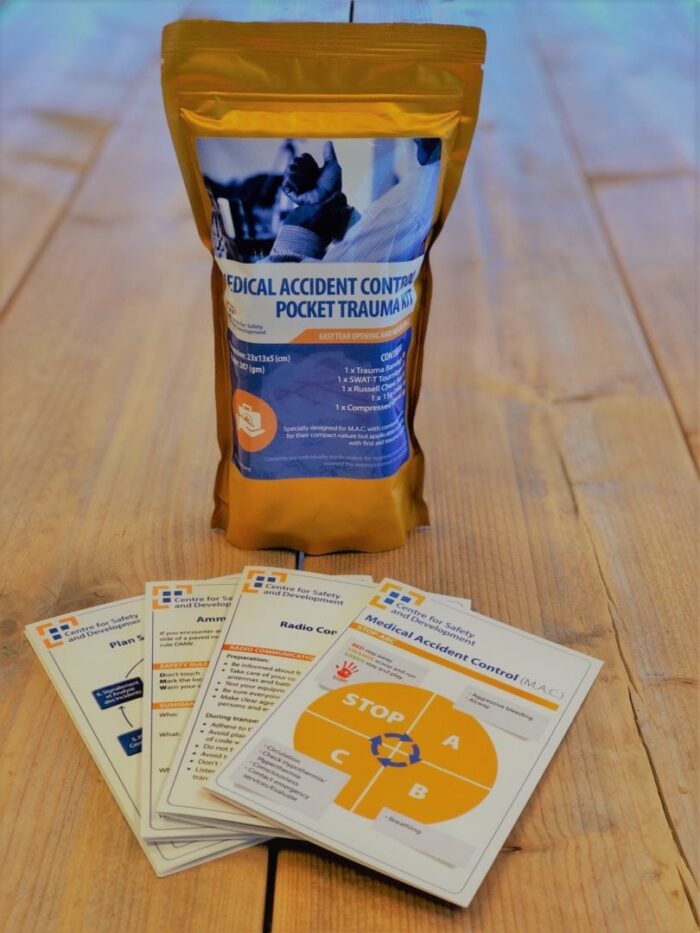 Your own professional medical kit and instruction cards
During the module "Medical Accident Control" our specialists teach you to use a professional medical kit specifically designed for remote areas.
You will receive this medical kit (value € 99,-) for free to bring home and on your travels.
At the end of each segment of the HEAT training, you will receive an instruction card with a summary of everything you have learned.
The instruction cards are waterproof, so they are handy and practical for carrying in the field.
About this course
Language: English (incompany also in French and Dutch)
Duration: 3 days, including two evening programmes (32 hours)
Breakdown of time: 30% theory, 30% practice, 40% simulations
Group size: maximum 14 (during simulations maximum of 7)
Venue: Soesterberg, the Netherlands
Dietary wishes: vegetarian/vegan/halal/other meals 
Certification: on completion of the course you will receive a certificate
Keep your training up to date: We ensure that your training stays current by offering you a free e-learning programme after one year.
Modules:
Security Awareness
Gender Safety
Stress and Trauma
Dealing with Aggression
Integrity & Ethics
Field Safety Skills
Communication Skills
Ammunition & Weapon Awareness
Medical Accident Control
Hostage Survival
Simulation Exercises
Apply now
Staff working and/or travelling in medium and high risk areas. If you are travelling to an area which the Ministry of Foreign Affairs has classified as unsafe, this course is the right course for you.
Please keep in mind that even if an area is classified as safe you must make your own judgement concerning the risks.
Apply now
December 18-20, 2019

Kontakt der Kontinenten
Apply now
January 6-8, 2020
January 15-17, 2020
January 20-22, 2020
January 29-31, 2020
February 3-5, 2020
February 12-14, 2020
February 26-28, 2020
March 4-6, 2020
March 11-13, 2020
March 23-25, 2020
April 1-3, 2020
April 6-8, 2020
April 15-17, 2020
April 28-30, 2020
May 6-8, 2020
May 11-13, 2020
May 25-27, 2020
June 3-5, 2020
June 10-12, 2020
June 15-17, 2020
Apply now
Training Package: € 1.900,- (including all course materials)

Food & Beverage:

€ 178,90 (excluding 9% VAT)
Accommodation: 2 nights: € 153,21 (excluding 9% VAT)
Tourist taxes: € 3,00
VAT 9%: € 29,89
Total: € 2.265,00
Accommodation and food & beverage are automatically reserved for all participants for the nights during the course.
The course fee excludes the following optional services:
Accommodation the night before (optional): € 76,50,-
Food & beverage the day before (optional): € 18,- (main course, one drink included).
Accommodation the night after (optional): € 76,50,-
Apply now
Some more reviews
Basic Course participant:
'It was a great course very professional, thank you guys!'
Basic Course participant:
'Thank you for the interesting course, great actors (!), and professionl teachers.'
Basic Course participant:
'Great course, should be mandatory for all work in conflict zones.'
What makes us special
Hyper-realistic training
We believe that hyper-realistic training enables the steepest learning curve and is the most effective preparation for risk areas.
Safe learning environment
Anyone can take part in our training. Your personal safety and well-being are our primary concern.
Highest quality
We have been awarded the score of 9.8 by CEDEO, an independent institute, for our quality, continuity and customer focus.
Personal equipment
You receive a professional medical kit and instruction cards to support you during your travels.