Supporting NGO safety and security from the start
The context in which NGOs operate has changed rapidly over the last 15 years. Insecurity has increased and NGOs are confronted with new, more difficult risks.
In this volatile environment, NGOs feel a moral obligation to ensure the safety of their staff. They want to take their responsibility to their staff seriously and seek serious partners to assist them to prepare their colleagues and organisation.
NGOs choose CSD to support their mission because of quality assurances and because of who we are.
'Excellent trainers. All are very open, energetic, skilled and friendly people. I felt very safe throughout the whole course.'
Firmly grounded in the NGO community
We have been specialised in NGO safety and security from the start. As a non-profit organisation, we are a NGO ourselves.
As a member of the CHS Alliance, PHAP, INSSA and Partos, we are firmly grounded in the NGO community. We are the secretariat of the Dutch Security Network (DSN), the security forum for Dutch NGOs.
We serve around 200 different local and international NGOs worldwide.
We believe that:
Humanitarian, relief & development, faith-based, human rights and environmental NGOs can fulfil their duty of care even in remote and hostile hotspots.
An acceptance approach is the most effective way to improve NGO safety and security.
Staff members are individuals with their own personality, story and history. Building the capacity of a person to deal with insecurity is only possible when it suits the individual and builds upon his or her strengths.
Organisations deliver the best results when security is integrated in their thinking, culture and procedures.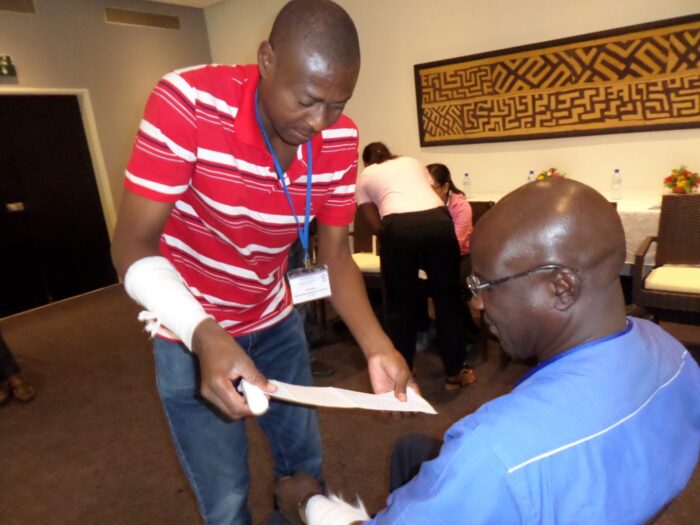 We go where your mandate takes you
We deliver our services in your home country and in the field. Basically, we go where your mandate takes you.
Our goal is to enable you to fulfil your mission by mitigating your risks.
Even if the beneficiaries are located in remote or hostile environments and cannot easily be accessed.
In the end, it is about making sure that those in need receive assistance and aid.
What makes us special
We are a NGO specialist
You will  receive NGO focussed advise and training that meet the specific challenges of your work.
We are non-profit
CSD is a non profit foundation. We invest in quality and not in profit.
We go where you go
We go wherever your mandate takes you to support your mission.
Acceptance approach
CSD understands that acceptance from communities is paramount. This approach is our starting point for security.